My name is Bérénice Lysande Moroy. I'm a professional seamstress and costume maker.
I trained in Costuming for Movie & TV at the CUT Design Academy in Vancouver BC, where I learned the ropes of any position in the Costume Department of movie productions.
I also obtained a professional certification in Sewing & Fashion in Paris, France.
I do alterations for movie productions, commercials and music projects and make custom clothing and costumes. If you need alterations or have a desire for a custom project, share your idea with me through the contact form and we will make your vision a reality.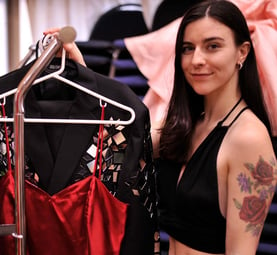 The fashion industry being one of the most polluting industries, I aim to make my sewing as environmentally-friendly as possible.
Most of the material required to create beautiful and original garments is already in circulation. Thrifting secondhand fabrics, upcycling old clothes, and valorizing end-of-roll, leftovers and fabric scraps from local fabric stores are all ways to reduce the production of new waste while encouraging creativity and innovation.
I have been a fervent supporter of secondhand clothes for as long as I can remember and stopped buying new clothes years ago. Thrift stores offer an unlimited supply of garments and inspiration for newly modified creations. Experience and an ever-growing skillset has shown me that most styles and materials can be upcycled into something unique and original. I also use secondhand fabrics like bedsheets, throws, and vintage curtains to create new garments from scratch.
For me, the most fulfilling aspects of design are creating a piece to help someone embody their authenticity; a costume to enliven a character in theatre, performance arts or circus; and working with a team to come up with new, innovative ways of expression through costume design. I am involved in every step of the process, from the initial idea to the final delivery of the piece. This could include preliminary discussions about the larger production; conceptualization stage; design drawing; fabric and material selection; draping; pattern drafting; and sewing.
SECONDHAND FASHION BELIEVER